Wildlife Talk – The Life of Frogs. Thursday 8th March, 7.30pm (Free) Parks Depot, Waterhouse Lane (next to Tesco Express).
Our evening will start with a short up-date on the previous year's events on the Nature Reserve, following by a talk and presentation will be given by Lin Wenlock, Chair of the national charity Froglife  www.froglife.org
This will be followed by refreshments, wine, soft drinks, tea and coffee and nibbles. Do bring along your friends and family.
John Lewis Community Matters
Voting is from February to the end of April 2018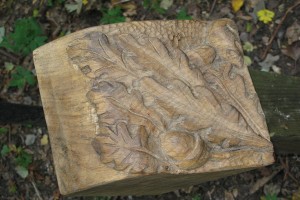 John Lewis like to support local projects in the community to make a difference, each quarter three projects are chosen to be put forward for a share of £3,000 funding. We are thrilled to have been chosen!
Please vote for Marconi Ponds. Each time you make a purchase, collect a plastic token at the till and pop it in our slot in the Voting Box by the main entrance. The project with the most votes is awarded the most funding.
We plan to spend the money on purchasing bird boxes for families to make at our Open Day on Saturday 12th May and we also plan to purchase more bulbs for spring planting.
Please VOTE for Marconi Ponds Nature Reserve as many times as you like!
Practical Session – Saturday 17th February – 1.30 – 3.30pm.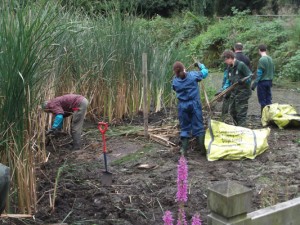 We had a brilliant session with 22 of us, including a small group of Guides and their leader. We got masses of jobs done on the Nature Reserve this time in glorious sunshine.
As well as the usual litter pick, a group continued with creating the layered hedge alongside the footpath railings. Another group constructed a dead hedge in Bluebell Wood, the area running alongside the railway embankment path halfway through the wooded part of the reserve. We moved the cyclamen corms and other plants to a new woodland area before the nettles grow up and hide them again! We also topped up the bark chippings around the activity trail equipment which shows it is being well used. We all enjoyed the hot drinks and chocolate biscuits at the end of the session.    
Future Practical Sessions – 2018   
Saturday 17th March 1.30 – 3.30pm
Saturday 21st April 1.30 – 3.30pm
OPEN DAY  –  Saturday 12th May  1.00 – 4.00pm   –  OPEN DAY
Saturday 16th June  1.30 – 3.30pm
Saturday 21st July  1.30 – 3.30pm
We don't meet in August
Saturday 15th September 1.30 – 3.30pm
Saturday 20th October  1.30 – 3.30pm
Saturday 17th November 1.30 – 3.30pm
We don't meet in December

Download leaflet of dates for volunteer activities at Marconi Ponds Nature Reserve
News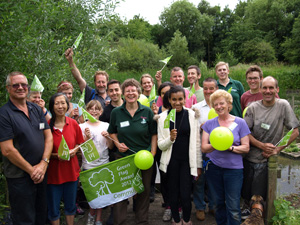 Green Flag Community Award
We have been awarded a Green Flag Community Award again this year! Success in this is a way to recognise all our supporters who have worked so hard on the Nature Reserve throughout the past 12 months. We can't do it without you all!
Last year we had a visiting judge so we were able to walk round the site with them and explain what we had been doing to develop the nature reserve. This year we have put in our application and will have a 'mystery shopper' judge, so we hope we will be successful again.